Indicators of Forest Extent
Forest Gain
This indicator aims to monitor the total land area that has transitioned from an unforested to a forested state each year. The indicator currently measures tree cover gain as a best-available proxy for forest gain. Tree cover gain includes forest gain as well as gain from industrial tree plantations and agricultural tree crops, which are not typically considered forests. An area is defined as experiencing tree cover gain when an increase in tree cover to at least 50 percent canopy cover has occurred (measured at 30-meter [m] resolution in satellite imagery). The statistics reported in this indicator capture "gross" tree cover gain—that is, the total gain irrespective of any tree cover loss that may have occurred during that same year (see the Forest Loss Indicator).
In this section, we'll explore the following questions:
Get the Latest in Your Inbox
The world experienced 80.6 million hectares (Mha) of tree cover gain between 2001 and 2012,Hansen et al. 2013, https://doi.org/10.1126/science.1244693 . though this figure includes areas that experienced both tree cover loss and gain within the time period, such as the harvesting and replanting of trees for commercial forestry. More recent geospatial data on global tree cover gain are currently not available, and temporal trends cannot be assessed at this time because the data set is cumulative rather than annual.
More
Areas of gross tree cover gain between 2001 and 2012
More
How much tree cover gain has occurred in tropical versus temperate and boreal forests?
More than half (55 percent) of tree cover gain between 2001 and 2012 occurred in tropical and subtropical ecozones. Around a fifth of all gain (21 percent) in this part of the world occurred in existing tree plantations and presumably does not reflect regeneration of natural forests.See <a href="/gfr/data-and-methods#forest-gain">Data and Methods</a>.
The remaining 45 percent of tree cover gain between 2001 and 2012 occurred in temperate and boreal ecozones. Tree plantations and planted forests managed for timber extraction are widespread in temperate and boreal forests and are likely responsible for a significant portion of the tree cover gain detected over this period. However, such seminatural forests are very difficult to distinguish from other natural forests in satellite imagery and therefore have not been comprehensively mapped. As a result, it is not currently possible to quantify the amount of tree cover gain associated with the cyclical cutting and growing cycles of forestry activities versus other forms of tree cover gain, such as the natural regeneration of forest on abandoned farmland.

The University of Maryland recently developed a data set mapping annual tree cover height and tree cover canopy. The prototype covers the Mekong area for the period 2001–17.Potapov et al. 2019, https://doi.org/10.1016/j.rse.2019.111278 . This data set derives annual tree cover gain by analyzing when tree cover canopy and height meet minimum thresholds (30 percent and five meters, respectively).
According to these data, the Lower Mekong had 9 Mha of persistent gain between 2000 and 2017, an average of 0.5 Mha per year (i.e., areas that did not have tree cover in 2000 but did consistently by 2017). An additional 27 Mha, an average of 1.6 Mha per year, were subject to various episodes of loss and gain (likely implying the rotation of plantations or shifting agriculture). Thailand experienced the most persistent gain by total area (2.9 Mha), and Vietnam experienced the greatest persistent gain as a percentage of its total land area (6.9 percent).
The Mekong region: A prototype for improved measurements of forest gain and restoration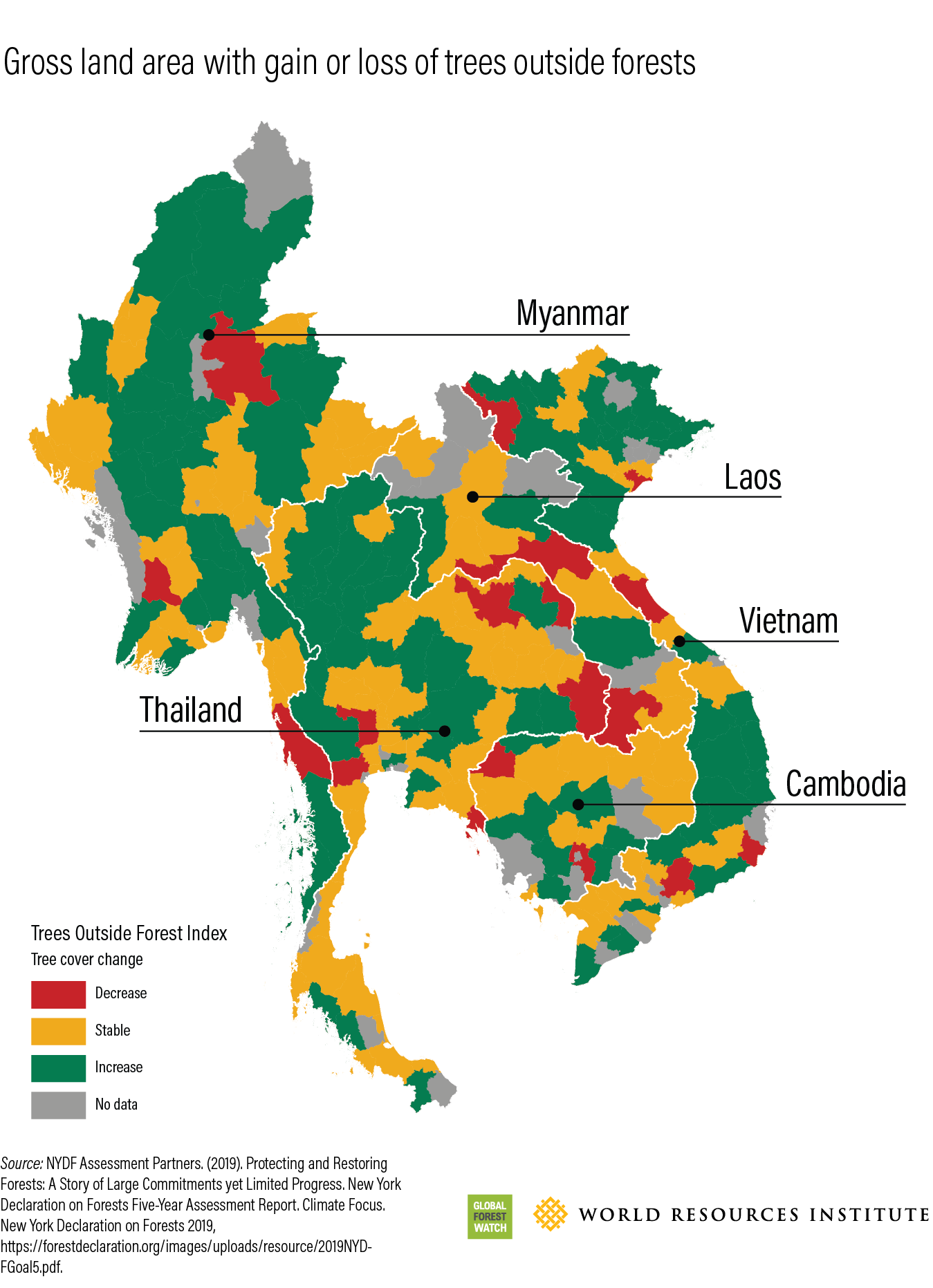 When expanded globally, this new data set will provide unprecedented estimates of tree cover gain and net tree cover change. However, it does not detect sparse tree cover, such as trees occurring in agricultural and pastoral landscapes. Developing methods to detect these trees is critical to accurately track progress on forest landscape restoration efforts (see the Trees outside Forests Indicator).
More
Unlike tree cover loss, which generally occurs swiftly, tree cover gain is a gradual process that occurs over years. Tree cover gain is therefore difficult to detect from satellite imagery over short intervals; indeed, the reported accuracy of the global tree cover gain data set is about 75 percent (compared to 87 percent for tree cover loss).Hansen et al. 2013, https://doi.org/10.1126/science.1244693 . Forthcoming annual tree cover height and canopy density data from the University of Maryland will improve the detection of tree cover gain.
Current data also do not allow for characterization of tree cover gain—for example, whether it is a result of natural regeneration, assisted regeneration, tree planting, and/or agroforestry. Forthcoming annual tree cover height and canopy density data will also help differentiate between lands experiencing cyclical loss and gain dynamics (e.g., as a result of harvesting and regrowth of tree plantations) as opposed to new tree cover on previously unforested lands.

Less
Forest gain does not directly represent "forest and landscape restoration," a key goal of international commitments such as the Bonn Challenge and the New York Declaration on Forests, for several reasons:
The data aggregate many different causes of tree cover gain, including dynamics that may not always count towards restoration commitments (e.g., tree plantations, regeneration after natural disturbances, etc.). Some of these dynamics can be distinguished using the prototype height and cover data from the University of Maryland by determining areas that have faced cycles of loss and gain. The Spatial Database of Planted Trees can also help distinguish gains in planted forests from natural forests, but it remains incomplete.Harris et al. 2019, https://www.wri.org/publication/planted-trees . Ideally, a method similar to the Curtis et al. (2018) model for determining drivers of tree cover lossCurtis et al. 2018, https://doi.org/10.1126/science.aau3445 . could be developed to distinguish the various drivers and dynamics of restoration.
The tree cover gain data do not cover other forms of restoration, such as enhancement of forest stocks or planting of sparse trees in agricultural landscapes. The prototype height and cover data may offer a way forward for measuring the enhancement of forest stocks. If annual height and canopy density data are sufficiently accurate, these could be used to determine those areas that are becoming taller and denser over time. Detecting sparse trees, on the other hand, requires higher-resolution imagery than that used for global maps. Tools such as Collect Earth allow local experts to interpret freely available high-resolution images within sample plots to detect individual trees outside forests and could be combined with global data to form a more comprehensive assessment of forest restoration (see the Trees outside Forests Indicator).
Most restoration initiatives have objectives beyond increasing forest cover that are not accounted for in current tree cover gain data, including carbon removal from the atmosphere, increased biodiversity habitat and connectivity, water filtration and flow regulation, improved soil fertility, and income generation from fuelwood sales or agroforestry activities. Although there is guidance on how to monitor these objectives at the landscape scale,Buckingham et al. 2019, https://www.wri.org/publication/restoration-monitoring-guide . doing so at a global level remains difficult.
Efforts are under way to fill the gaps on data, methods, and definitions related to systematic monitoring of restoration commitments.

Less
{"Glossary":{"51":{"name":"agricultural tree crops","description":"Trees cultivated for their food, cultural, or economic values. These include oil palm, rubber, cocoa, cashew, mango, oranges (citrus), plantain, banana, and coconut.\r\n"},"101":{"name":"albedo","description":"The ability of surfaces to reflect sunlight.\u0026nbsp;Light-colored surfaces return a large part of the sunrays back to the atmosphere (high albedo). Dark surfaces absorb the rays from the sun (low albedo).\r\n"},"94":{"name":"biodiversity intactness","description":"The proportion and abundance of a location\u0027s original forest community (number of species and individuals) that remain.\u0026nbsp;\r\n"},"95":{"name":"biodiversity significance","description":"The importance of an area for the persistence of forest-dependent species based on range rarity.\r\n"},"98":{"name":"carbon dioxide equivalent (CO2e)","description":"Carbon dioxide equivalent (CO2e) is a measure used to aggregate emissions from various greenhouse gases (GHGs) on the basis of their 100-year global warming potentials by equating non-CO2 GHGs to the equivalent amount of CO2.\r\n"},"99":{"name":"CO2e","description":"Carbon dioxide equivalent (CO2e) is a measure used to aggregate emissions from various greenhouse gases (GHGs) on the basis of their 100-year global warming potentials by equating non-CO2 GHGs to the equivalent amount of CO2.\r\n"},"1":{"name":"deforestation","description":"The change from forest to another land cover or land use, such as forest to plantation or forest to urban area.\r\n"},"77":{"name":"deforested","description":"The change from forest to another land cover or land use, such as forest to plantation or forest to urban area.\r\n"},"76":{"name":"degradation","description":"The reduction in a forest\u2019s ability to perform ecosystem services, such as carbon storage and water regulation, due to natural and anthropogenic changes.\r\n"},"75":{"name":"degraded","description":"The reduction in a forest\u2019s ability to perform ecosystem services, such as carbon storage and water regulation, due to natural and anthropogenic changes.\r\n"},"79":{"name":"disturbances","description":"A discrete event that changes the structure of a forest ecosystem.\r\n"},"68":{"name":"disturbed","description":"A discrete event that changes the structure of a forest ecosystem.\r\n"},"65":{"name":"driver of tree cover loss","description":"The direct cause of forest disturbance.\r\n"},"70":{"name":"drivers of loss","description":"The direct cause of forest disturbance.\r\n"},"81":{"name":"drivers of tree cover loss","description":"The direct cause of forest disturbance.\r\n"},"102":{"name":"evapotranspiration","description":"When solar energy hitting a forest converts liquid water into water vapor (carrying energy as latent heat) through evaporation and transpiration.\r\n"},"2":{"name":"forest","description":"Forests include tree cover greater than 30 percent tree canopy density and greater than 5 meters in height as mapped at a 30-meter Landsat pixel scale.\r\n"},"3":{"name":"forest concession","description":"A legal agreement allowing an entity the right to manage a public forest for production purposes.\r\n"},"90":{"name":"forest concessions","description":"A legal agreement allowing an entity the right to manage a public forest for production purposes.\r\n"},"53":{"name":"forest degradation","description":"The reduction in a forest\u2019s ability to perform ecosystem services, such as carbon storage and water regulation, due to natural and anthropogenic changes.\r\n"},"54":{"name":"forest disturbance","description":"A discrete event that changes the structure of a forest ecosystem.\r\n"},"100":{"name":"forest disturbances","description":"A discrete event that changes the structure of a forest ecosystem.\r\n"},"5":{"name":"forest fragmentation","description":"The breaking of large, contiguous forests into smaller pieces, with other land cover types interspersed.\r\n"},"6":{"name":"forest management plan","description":"A plan that documents the stewardship and use of forests and other wooded land to meet environmental, economic, social, and cultural objectives. Such plans are typically implemented by companies in forest concessions.\r\n"},"62":{"name":"forests","description":"Forests include tree cover greater than 30 percent tree canopy density and greater than 5 meters in height as mapped at a 30-meter Landsat pixel scale.\r\n"},"69":{"name":"fragmentation","description":"The breaking of large, contiguous forests into smaller pieces, with other land cover types interspersed.\r\n"},"80":{"name":"fragmented","description":"The breaking of large, contiguous forests into smaller pieces, with other land cover types interspersed.\r\n"},"74":{"name":"gain","description":"The establishment of tree canopy in an area that previously had no tree cover. Tree cover gain may indicate a number of potential activities, including natural forest growth or the crop rotation cycle of tree plantations.\r\n"},"7":{"name":"hectare","description":"One hectare equals 100 square meters, 2.47 acres, or 0.01 square kilometers and is about the size of a rugby field. A football pitch is slightly smaller than a hectare (pitches are between 0.62 and 0.82 hectares).\r\n"},"66":{"name":"hectares","description":"One hectare equals 100 square meters, 2.47 acres, or 0.01 square kilometers and is about the size of a rugby field. A football pitch is slightly smaller than a hectare (pitches are between 0.62 and 0.82 hectares).\r\n"},"67":{"name":"intact","description":"A forest that contains no signs of human activity or habitat fragmentation as determined by remote sensing images and is large enough to maintain all native biological biodiversity.\r\n"},"78":{"name":"intact forest","description":"A forest that contains no signs of human activity or habitat fragmentation as determined by remote sensing images and is large enough to maintain all native biological biodiversity.\r\n"},"8":{"name":"intact forests","description":"A forest that contains no signs of human activity or habitat fragmentation as determined by remote sensing images and is large enough to maintain all native biological biodiversity.\r\n"},"55":{"name":"land and environmental defenders","description":"People who peacefully promote and protect rights related to land and\/or the environment.\r\n"},"9":{"name":"loss driver","description":"The direct cause of forest disturbance.\r\n"},"10":{"name":"low tree canopy density","description":"Less than 30 percent tree canopy density.\r\n"},"84":{"name":"managed forest concession","description":"Areas where governments have given rights to private companies to harvest timber and other wood products from natural forests on public lands.\r\n"},"83":{"name":"managed forest concession maps for nine countries","description":"Cameroon, Canada, Central African Republic, Democratic Republic of the Congo, Equatorial Guinea, Gabon, Indonesia, Liberia, and the Republic of the Congo\r\n"},"91":{"name":"megacities","description":"A city with more than 10 million people.\r\n"},"57":{"name":"megacity","description":"A city with more than 10 million people."},"56":{"name":"mosaic restoration","description":"Restoration that integrates trees into mixed-use landscapes, such as agricultural lands and settlements, where trees can support people through improved water quality, increased soil fertility, and other ecosystem services. This type of restoration is more likely in deforested or degraded forest landscapes with moderate population density (10\u2013100 people per square kilometer). "},"86":{"name":"natural","description":"A forest that is grown without human intervention.\r\n"},"12":{"name":"natural forest","description":"A forest that is grown without human intervention.\r\n"},"63":{"name":"natural forests","description":"A forest that is grown without human intervention.\r\n"},"82":{"name":"persistent gain","description":"Forests that have experienced one gain event from 2001 to 2016.\r\n"},"13":{"name":"persistent loss and gain","description":"Forests that have experienced one loss or one gain event from 2001 to 2016."},"97":{"name":"plantation","description":"An area in which trees have been planted, generally for commercial purposes.\u0026nbsp;\r\n"},"93":{"name":"plantations","description":"An area in which trees have been planted, generally for commercial purposes.\u0026nbsp;\r\n"},"88":{"name":"planted","description":"A forest composed of trees that have been deliberately planted and\/or seeded by humans.\r\n"},"14":{"name":"planted forest","description":"A forest composed of trees that have been deliberately planted and\/or seeded by humans.\r\n"},"73":{"name":"planted forests","description":"A forest composed of trees that have been deliberately planted and\/or seeded by humans.\r\n"},"15":{"name":"primary forest","description":"Old-growth forests that are typically high in carbon stock and rich in biodiversity. The GFR uses a humid tropical primary rainforest data set, representing forests in the humid tropics that have not been cleared in recent years.\r\n"},"64":{"name":"primary forests","description":"Old-growth forests that are typically high in carbon stock and rich in biodiversity. The GFR uses a humid tropical primary rainforest data set, representing forests in the humid tropics that have not been cleared in recent years.\r\n"},"58":{"name":"production forest","description":"A forest where the primary management objective is to produce timber, pulp, fuelwood, and\/or nonwood forest products."},"89":{"name":"production forests","description":"A forest where the primary management objective is to produce timber, pulp, fuelwood, and\/or nonwood forest products.\r\n"},"87":{"name":"seminatural","description":"A managed forest modified by humans, which can have a different species composition from surrounding natural forests.\r\n"},"59":{"name":"seminatural forests","description":"A managed forest modified by humans, which can have a different species composition from surrounding natural forests. "},"96":{"name":"shifting agriculture","description":"Temporary loss or permanent deforestation due to small- and medium-scale agriculture.\r\n"},"103":{"name":"surface roughness","description":"Surface roughness of forests creates\u0026nbsp;turbulence that slows near-surface winds and cools the land as it lifts heat from low-albedo leaves and moisture from evapotranspiration high into the atmosphere and slows otherwise-drying winds. \r\n"},"17":{"name":"tree cover","description":"All vegetation greater than five meters in height and may take the form of natural forests or plantations across a range of canopy densities. Unless otherwise specified, the GFR uses greater than 30 percent tree canopy density for calculations.\r\n"},"71":{"name":"tree cover canopy density is low","description":"Less than 30 percent tree canopy density.\r\n"},"60":{"name":"tree cover gain","description":"The establishment of tree canopy in an area that previously had no tree cover. Tree cover gain may indicate a number of potential activities, including natural forest growth or the crop rotation cycle of tree plantations."},"18":{"name":"tree cover loss","description":"The removal or mortality of tree cover, which can be due to a variety of factors, including mechanical harvesting, fire, disease, or storm damage. As such, loss does not equate to deforestation. "},"19":{"name":"tree plantation","description":"An agricultural plantation of fast-growing tree species on short rotations for the production of timber, pulp, or fruit.\r\n"},"72":{"name":"tree plantations","description":"An agricultural plantation of fast-growing tree species on short rotations for the production of timber, pulp, or fruit.\r\n"},"85":{"name":"trees outside forests","description":"Trees found in urban areas, alongside roads, or within agricultural land\u0026nbsp;are often referred to as Trees Outside Forests (TOF).\u202f\r\n"}}}