Course 2: Increase Food Production without Expanding Agricultural Land (Synthesis)
{"Glossary":[{"name":"Deforestation","description":"\u003Cp\u003EDeforestation is the change from forest to another land cover, such as agriculture or urban area.\u003C\/p\u003E\r\n"},{"name":"Natural forest","description":"\u003Cp\u003ENatural forest includes primary and secondary forest that is grown without human intervention.\u003C\/p\u003E\r\n"},{"name":"Trees outside forests","description":"\u003Cp\u003ETrees found in urban areas, alongside roads, or within agricultural land are often referred to as Trees Outside Forests (TOF).\u0026nbsp;\u003C\/p\u003E\r\n"},{"name":"Tree cover loss","description":"\u003Cp\u003ETree cover loss is the removal or mortality of tree cover and can be due to a variety of factors, including mechanical harvesting, fire, disease, or storm damage. As such, \u201closs\u201d does not equate to deforestation.\u003C\/p\u003E\r\n"},{"name":"Tree cover","description":"\u003Cp\u003ETree cover is all vegetation greater than five meters in height and make take the form of natural forests or plantations across a range of canopy densities.\u0026nbsp;Unless otherwise specified, the GFR uses greater than 30 percent tree canopy density for calculations.\u003C\/p\u003E\r\n"},{"name":"Short tree height","description":"\u003Cp\u003ELess than 5 meters.\u003C\/p\u003E\r\n"},{"name":"Primary forest","description":"\u003Cp\u003EOld-growth forests that are typically high in carbon stock and rich in biodiversity. The Global Forest Review uses a humid tropical primary rainforest dataset, representing forests in the humid tropics that have not been cleared in recent years.\u003C\/p\u003E\r\n"},{"name":"Planted forest","description":"\u003Cp\u003EPlanted forests are comprised of trees that have been deliberately planted and\/or seeded by humans.\u0026nbsp;\u003C\/p\u003E\r\n"},{"name":"Persistent loss and gain","description":"\u003Cp\u003EForests that have experienced one loss or one gain event from 2001-2016).\u0026nbsp;\u003C\/p\u003E\r\n"},{"name":"Mosaic restoration","description":"\u003Cp\u003EMosaic restoration integrates trees into mixed-use landscapes, such as agricultural lands and settlements, where trees can support people through improved water quality, increased soil fertility, and other ecosystem services. This type of restoration is more likely in deforested or degraded forest landscapes with moderate population density (10 - 100 people\/km2).\u003C\/p\u003E\r\n"},{"name":"Forest","description":"\u003Cp\u003EForests include tree cover greater than 30 percent tree canopy density and greater than five meters in height as mapped at a 30-meter Landsat pixel scale.\u003C\/p\u003E\r\n"},{"name":"Low tree canopy density","description":"\u003Cp\u003ELow tree canopy density is\u0026nbsp;less than 30 percent tree canopy density.\u003C\/p\u003E\r\n"},{"name":"Loss driver","description":"\u003Cp\u003ELoss driver is the direct cause of forest disturbance.\u003C\/p\u003E\r\n"},{"name":"Intact forests","description":"\u003Cp\u003EIntact forests contain no signs of human activity or habitat fragmentation as determined by remote sensing images and are large enough to maintain all native biological biodiversity.\u003C\/p\u003E\r\n"},{"name":"Hectare","description":"\u003Cp\u003EOne hectare is 0.01 square kilometers (e.g., 100m x 100m) and about the size of a rugby field. A football pitch is slightly smaller than a hectare (they are between 0.62 and 0.82 hectares).\u003C\/p\u003E\r\n"},{"name":"Forest management plan","description":"\u003Cp\u003EForest management plan documents the stewardship and use of forests and other wooded land to meet environmental, economic, social and cultural objectives.\u0026nbsp;They are typically implemented by companies in forest concessions.\u003C\/p\u003E\r\n"},{"name":"Forest fragmentation","description":"\u003Cp\u003EForest fragmentation is the breaking of large, contiguous forests into smaller pieces, with other land cover types interspersed.\u0026nbsp;\u003C\/p\u003E\r\n"},{"name":"Forest degradation","description":"\u003Cp\u003EForest degradation is the reduction in a forest\u2019s ability to perform ecosystem services, such as carbon storage and water regulation, due to natural and anthropogenic changes.\u003C\/p\u003E\r\n"},{"name":"Forest concession","description":"\u003Cp\u003EForest concession is a legal agreement allowing an\u003Cstrong\u003E\u0026nbsp;\u003C\/strong\u003Eentity the right to manage a public forest for production purposes.\u003C\/p\u003E\r\n"},{"name":"Wide-scale restoration","description":"\u003Cp\u003EWide-scale restoration restores large, closed forest areas in the landscape.\u003C\/p\u003E\r\n"}]}
Course 2
Increase Food Production without Expanding Agricultural Land (Synthesis)
In addition to the demand-reduction measures addressed in Course 1, the world must boost the output of food on existing agricultural land. To approach the goal of net-zero expansion of agricultural land, under realistic scenarios, improvements in crop and pasture productivity must exceed historical rates of yield gains.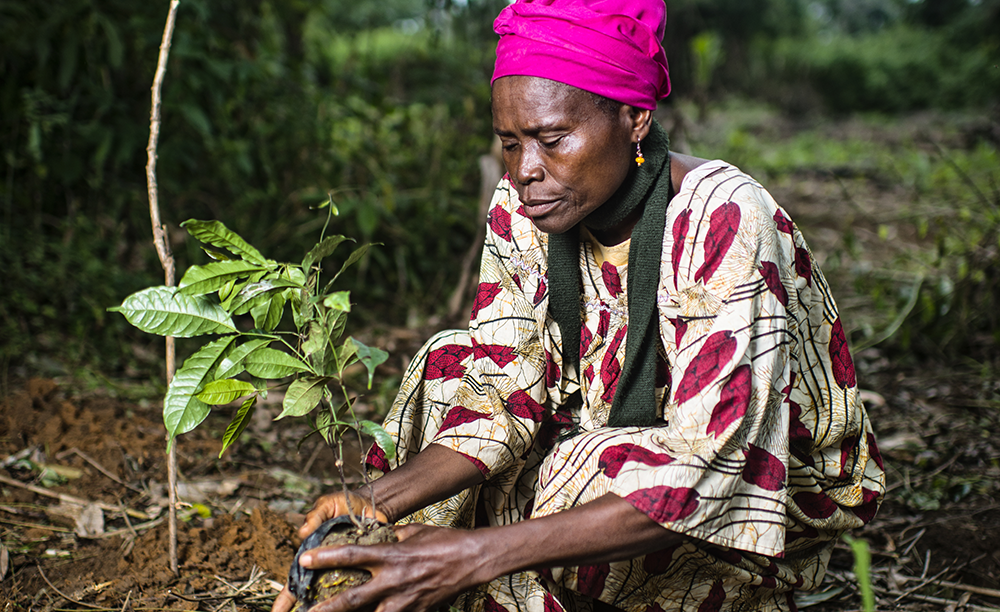 Assessing the Challenge of Agricultural Land Expansion 
The single most important need for a sustainable food future is boosting the natural resource efficiency of agriculture, that is, producing more food per hectare, per animal, per kilogram of fertilizer, and per liter of water. Such productivity gains reduce both the need for additional land and the emissions from production processes. Without the large crop and livestock productivity gains built into our baseline (based roughly on trends since 1961), land conversion would be five times greater by 2050 and GHG emissions would be more than double the level projected in our baseline (Figure 9).
In some mitigation analyses, including reports by the Intergovernmental Panel on Climate Change (IPCC), agricultural productivity gains are barely mentioned, for reasons that are unclear. Even under our baseline projection, with its large increases in crop and livestock yields, we project that agricultural land will expand by 593 Mha to meet expected food demand. Unless projected growth in demand for food can be moderated, to avoid land expansion both crop yields and pasture-raised livestock yields will have to grow even faster between 2010 and 2050 than they grew in previous decades.
Arguments can be made for both pessimism and optimism:
Studies have projected that farmers could achieve far higher yields than they do today. However, methods for estimating these "yield gaps" tend to exaggerate gap sizes and farmers can rarely achieve more than 80 percent of yield potential. The most comprehensive study suggests that fully closing realistic yield gaps is unlikely to be enough to meet all food needs.
The massive yield gains of the 50 years from 1960 to 2010 were achieved in large part by doubling irrigated area and extending the use of scientifically bred seeds and commercial fertilizer to most of the world. Only limited further expansion of these technologies remains possible.
Optimistically, farmers have so far continued to steadily boost yields by farming smarter in a variety of ways, and new technologies are opening up new potential.
Whatever the degree of optimism, the policy implications are the same: Going forward, the world needs to make even greater efforts to boost productivity than in the past to achieve a sustainable food future.
Figure 9
Improvements in crop and livestock productivity already built into the 2050 baseline close most of the land and GHG mitigation gaps that would otherwise exist without any productivity gains after 2010

Source
GlobAgri-WRR model.
Course 3
Protect and Restore Natural Ecosystems and Limit Agricultural Land-Shifting (Synthesis)
This course focuses on the land-management efforts that must complement food demand-reduction efforts and productivity gains to avoid the harms of agricultural land expansion. One guiding principle is the need to make land-use decisions that enhance efficiency for all purposes—not just agriculture but also carbon storage and other ecosystem services. Another principle is the need to explicitly link efforts to boost agricultural yield gains with protection of natural lands.
Endnotes
33

AnimalChange (2012), Figure 7. This analysis focused on efficiencies based on protein (kg of protein in output, e.g., meat, divided by kilograms of protein in feed). This analysis also noted that feed conversion efficiencies were not widely different in different regions for the reasons we discuss related to backyard systems.

34

Herrero et al. (2013).

35

Herrero et al. (2013), Figure 4. Systems are defined in this paper, and in the so-called Seres-Steinfeld system, by whether they are grazing only, mixed systems of grazing and feeds (a broad category that varies from only 10% feed to 90% feed), or entirely feed-based, and whether they are in arid, temperate, or humid zones.

38

Clustered Regularly Interspaced Short Palindromic Repeats and CRISPR-associated.

39

FAO (2011a). Preliminary results from the Global Land Degradation Information System (GLADIS) assessment.

40

Williams and Fritschel (2012); Bunderson (2012); Pretty et al. (2006); Branca et al. (2011).

42

Reij et al. (2009); Stevens et al. (2014); Reij and Winterbottom (2015).

43

Aune and Bationo (2008); Vanlauwe et al. (2010).

44

Giller et al. (2015); Williams and Fritschel (2012); Bationo et al. (2007).

45

To develop an estimate of fallow land, we deduct 80 Mha of cropland from the total estimate of rainfed cropland in Table 4.9 in Alexandratos and Bruinsma (2012) to come up with land that is not double-cropped, and deduct 160 Mha of land from harvested area (reflecting two crops per year on 80 hectares of land). The resulting difference between single-cropped cropland and harvested area suggests around 350 Mha of fallow land each year. FAO (2017a) indicates a 251 Mha difference between total arable land (including land devoted to permanent crops such as trees) and harvested area in 2009. These figures differ somewhat from the 299 Mha presented in Alexandratos and Bruinsma (2012), which adjusted arable land and harvested land in a couple of ways. However, assuming that roughly 150 Mha were double-cropped for reasons discussed above, that means 400 Mha were not harvested at all.

46

Siebert et al. (2010).

50

Craparo et al. (2015); Eitzinger et al. (2011); Ortiz et al. (2008); Teixeira et al. (2013).

51

IPCC (2014); Semenov et al. (2012); Teixeira et al. (2013).

52

World Bank (2012); Lobell et al. (2008).